Top Places to Visit in Kathmandhu
If the massive earthquake of 2015 couldn't shatter the beauty of Kathmandu in Nepal, then nothing ever will. Nestled in the bowl-like lap of Nepal valley, Kathmandu is a great attraction for many visitors from around the world. Expect a giant canvas of several colors celebrating your arrival when you visit the capital of Nepal—Kathmandu—with friends, family or simply alone, as it is a diverse mix of race, culture, &food, if you look closely. If you're an explorer who's keen on finding the oldest forms of art and literature, then go no further than Kathmandu as we will guide you through the landscape and tell you which places to visit in Kathmandu.
Here are the top 10 places in Kathmandu that you must explore while you're there:
Kathmandu Durbar Square
Swayambhunath
Pashupatinath Temple
Boudhanath Stupa
Kopan monastery
Budhanilkantha Temple
Thamel
Phulchowki
Royal Botanical Gardens
Seto Machindranath Temple
Kathmandu Durbar Square

An architectural container of sorts, Kathmandu Durbar Square is also a UNESCO world heritage site. Much of it has been claimed by the tragic earthquake of 2015 yet, what is left is no less than a marvel. A royal palace, it also contains architectural beauty which dates back to the 3rd century. So if you're a history fan, get prepared to have your mind blown by its sheer beauty and charm (and great historical facts too). Several temples such as Indrapur temple, Mahendreshwar temple, Jagannath temple, and Teleju temple showcase the history of Hindu religion, all of them located in the square. With an entrance fee of just a thousand bucks, prepare to witness the grand square and its architectural remains.
Swayambhunath

If you're wondering that only Hinduism surrounds the valley of Kathmandu, then Buddhism has a lot to offer too. Swayambhunath or "the self-sufficient one" is one such remarkable Buddhist stupa that draws several thousands of pilgrims and tourists every year to the hilltop where it's erected. Back in the fourth century, King Manadeva offered his assistance in the construction and many followers of Buddhism established closeness with it soon after it got constructed. No less than a symbol of peace and prayer, Swayambhunath is a place you must visit while you're trotting along in Kathmandu.
Pashupatinath Temple

If you're visiting Kathmandu, it's pretty clear that the place is filled with religious masterpieces. Carved in stone, this temple is a place of worship for Lord Shiva which also surrounds the panch deval complex that shelters several homeless people. Pashupatinath temple is an architectural feat covered in copper and gold that touches the banks of the Bagmati River too. Many pilgrims arrive to seek compromise with God, meet their final moments with grace and simply soak in the peace and serenity that it offers. The temple is of utmost significance, according to Hinduism. So expect a lot of religious learning if you happen to visit Pashupatinath temple in Kathmandu.
Boudhanath Stupa

The centuries-old Buddhist marvel is like a giant figure of peace overlooking the scenic city of Kathmandu. Boudhanath Stupa, or Chorten Chenpo, as most Tibetans like to call it, is a beacon of great Buddhist movement. With eyes painted right below the mandala, the stupa constantly guards the seekers of faith with its divine vision. Visit Boudhnath Stupa to attain bodhisattva or just be mesmerized by its grand serenity.
Kopan monastery

Right when Kathmandu ends, the Kopan monastery begins. The Tibetan Buddhist monastery is a place of recreation for several of us who want to meditate and learn how to meditate with recreational activities. Organized by those who run the monastery, the guided meditation programs are attended by many westerners. It's a great place to stay if you're planning to get into the state of peaceful meditation. Go for it if your hectic Kathmandu vacation has some portion of time carved just for recreational purposes.
Budhanilkantha Temple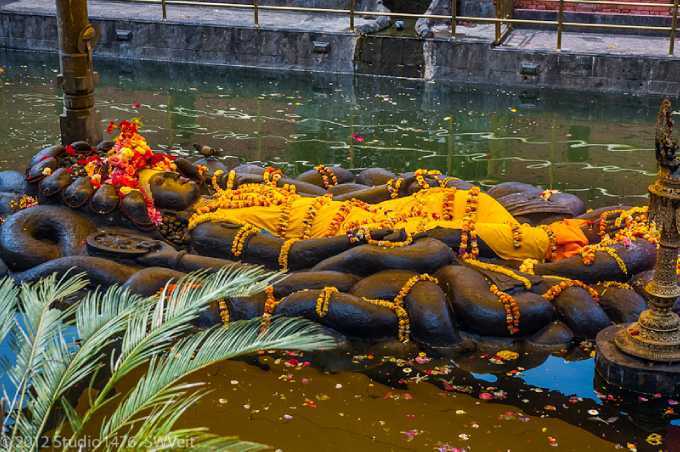 Situated in Northern Kathmandu, this place also holds the largest stone carving in all of Nepal. Dedicated to Lord Vishnu, Budhanilkantha Temple has a reclining statue of him on coiled serpent Shesha in the recessed pool of water. Several legends surround the beautiful stone carving so be prepared to be amazed by the Temple.
Thamel
If you're planning to grab dinner and enjoy a cozy nightlife, don't forget to mark Thamel in your itinerary. A colorful mix of Kathmandu's art, culture and lifestyle, Thamel has a lot to offer if you plan to get a taste of good food and a bunch of amazing handicrafts before you leave Nepal.
Phulchowki
If hiking is something you love to do, then Phulchowki is a bed of roses! The beautiful hilltop trek to Nepal's beloved Kathmandu, Phulchowki also happens to be the highest hill in its area. So grab your trekking shoes if you want to soak the skies of Kathmandu too.
Royal Botanical Gardens
Just when you're about to go up towards Phulchowki or descending back to the ground, beautiful assimilation of medicinal herbs and spellbinding flowers await your presence at The Royal Botanical Garden in Kathmandu. Visit the place if gardens fascinate you because the display of flora here is worth your time.
Seto Machindranath Temple
If chariots in their glory catch your fancy, then Seto Machindranath Temple is the place to be. A religious place for both Buddhist and Hindu believers, the temple was built around the tenth century for Lord Janababa Dyo. A colorful chariot procession is observed in the month of Chaitra, so consider yourself lucky if you happen to be in Kathmandu around that time.
Visit More Informations About Nepal: 10 Best Tourist Places to Visit in Nepal