Top 10 Yoga Teacher Training Schools in Nepal
Yoga is explored and practiced in every corner that makes the aspirants crave for a deeper knowledge of the holistic art. Rich in flora and fauna, the land of mesmeric lakes and mysterious caves, Nepal calls you to immerse profoundly in yoga teacher training course at some of the best schools and centers.
The land of the Himalayas, Nepal is an ancient yogic country with legacy making it an ideal destination for yoga training and vacation. With so many options out there offered by the country, here we're listing down ten best yoga teacher training schools in Nepal for you to make the right choice with ease.
1. Nepal Yoga Academy
Learn, practice, and grow becoming a better version with one of the best yoga teacher training schools in Nepal. Yoga training here emphasizes on teaching a rhythmic flow of Hatha Yoga while maintaining a balance between traditional and contemporary learning style. The journey with Nepal Yoga Academy lets you form a stronger spiritual connection during the yogic journey.
Courses: Yoga retreat - detox, Trek, Relaxation, Ayurveda, Deluxe, and yoga teacher training - 200, 300 and 500 Hour.
2. Mahalaya Nepal
Acquiring Yoga Training is in itself a unique experience, and doing so in Nepal with Mahalaya takes the uniqueness a step ahead bestowing you with invaluable opportunities. A prominent name in the industry, yoga training with them lets you spend time at a Tibetan Monastery, exploring culture, work on spiritual enhancement, etc. With them explore the extraordinary art of yoga by indulging in spiritual and mindful practices.
Courses: Yoga Training, Yoga Retreat, Holistic Courses, Meditation Retreat.
3. Purna Yoga Retreat
This traditional styled beatific resort is located on a hillside in Pokhara and is a dedicated residential center for yoga and meditation programs. The yoga resort center is an ideal place for the aspirants from every walk of the society and practice level. When here, you can reward yourself with retreat courses or deepen the practice with an intensive course of yoga teacher training in Nepal.
Courses: Yoga Retreat (Detox, weight loss, colon cleanse), Yoga Teacher Training (200 Hour and Sound Healing), and Special Programs (Massage, Cooking Course, Sound Healing, Yoga Trekking, Drop-in Class, etc.).
4. Sadhana Yoga & Meditation Retreat Center
Take over a relaxing, cultural and spiritual journey with Sadhana Yoga & Meditation Retreat Center - serving to the spiritual seekers from two decades now. Providing exclusive courses in the Valley of Pokhara, the center is self-sufficient, crediting to its ecological supports like recycling system, organic garden, solar energy, etc. They also serve freshly prepared healthy Ayurvedic meals to their guest and students.
Courses: Yoga Courses- yoga & Ayurveda, daily massage, Hatha Yoga practice, Karma Yoga Work, Cleansing and Detox- cooking course, yogic cleansing, fasting & gastro cleansing, weight loss retreat, yoga & juice fasting, Treks and Tours- hiking, yoga & meditation, yoga and sightseeing, refreshing pan chase yoga trek, and more including 200 Hour Yoga Teacher Training.
5. Nepal Yoga Home
A Yoga Alliance Certified center, Nepal Yoga Home is located in the Kathmandu Valley on a hill on the western edge at the foot of the Nagarjun National Park. Participants here enjoy tranquillity, warmth, and hospitality. Offering an array of a yoga training programs and Retreat packages, the center also provides Ayurveda related courses.
Courses: Yoga Teacher Training- 100 Hour, 200 Hour, 300 Hour and 500 Hour, Yoga Retreat- Long Course, Short Time, and Medium, Ayurveda- Detox, Cleansing, and other training courses- Children Yoga, Relaxing Prenatal Yoga Training, Senior Yoga training, and Acupressure.
6. Tushita Yoga And Meditation Retreat
Pack your bags and head towards the beatific Himalayan Resort in Nepal. Tushita is a popular yoga teacher training schools in Nepal that offers various packages from four days retreat to thirty days beginner's level yoga training program. The center allures guests from across the world who raves about the scintillating views of the Annapurna ranges. Retreats and training with them lets you focus on spirituality, Vedic philosophies, traditional yogic rituals, and balance of the body, mind, and soul.
Courses: Yoga Retreat, Yoga Teacher Training, Yoga Trek/Tour, Karma Yoga Work, etc.
7. The Art of Living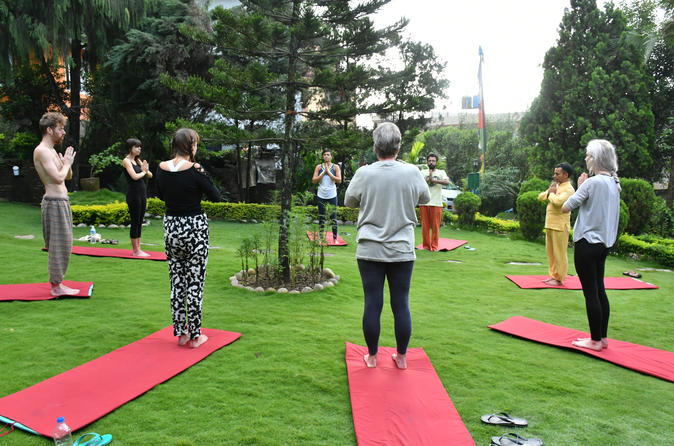 The name requires no introduction, the art of living is a renowned yoga and spirituality center in the whole wide world and so are its programs and yoga courses. Yoga Teacher Training with them is a soulful experience that submerges you deep to learn, explore and to bring the awareness of self.
Courses: Happiness programs, Art of Meditation, Sri Sri Yoga and more.
8. Ananda Yoga Center
Another renowned name in the yoga industry, Ananda yoga center in Kathmandu welcomes the aspiring yogis and avid practitioner to learn, grow and explore with them during their intense and extensive courses of yoga teacher training in Nepal. With its many branches worldwide they work on bringing in higher awareness, spirituality, deeper rejuvenation and more.
Courses: Yoga Teacher Training, Yoga and Meditation Retreat, Spa and Massage, and more.
9. Himalayan Yoga Academy
A certified yoga center in Nepal, Yoga training with Himalayan yoga academy takes you through the practical and theoretical procedure. The school welcomes you to learn the art of yoga in its traditional and purest form mastering the Methodology to spread the yogic wisdom to others.
Courses: Yoga Teacher Training Certification, Yoga Retreat packages, Detox therapies, Spiritual yoga tours and more.
10. Osho Divine Zone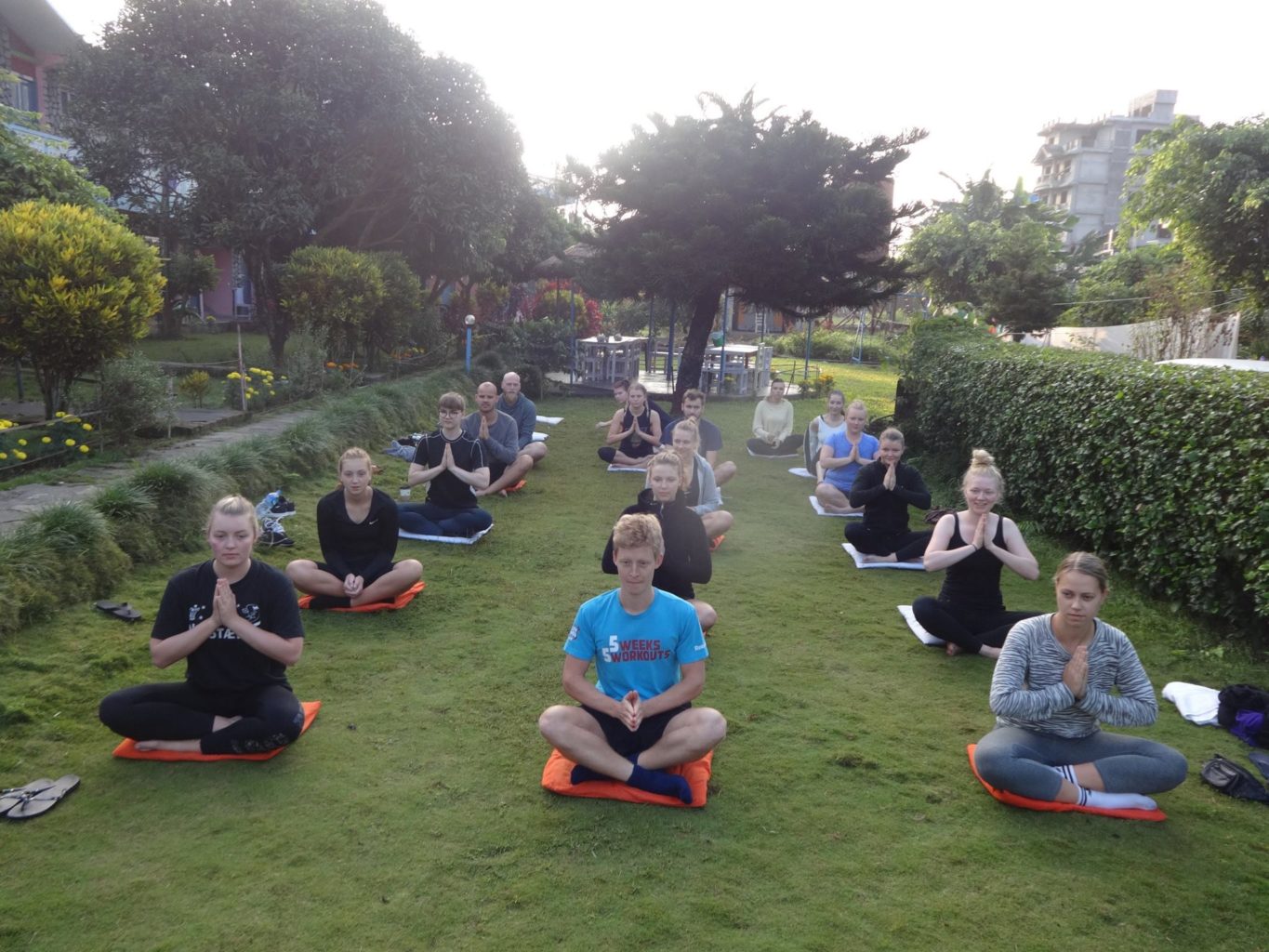 Nepal is a place that boasts peace and love, and the center with its teaching and philosophy, walks a similar path. Osho Divine Zone is a renowned name not only in Nepal but across the globe. The center has special offers for each participant that shapes the beautiful gift from nature - our life. With love, natural healing, and yoga, they bring joy and peace to you. Get in touch with ODZ for an extensive program of yoga training to get familiar with the art deeply.
Courses: Yoga Teacher Training, Ayurveda Massage Training, Shiatsu Massage Training, Foot Reflexology Course, Holistic Therapy Training, Yoga and Meditation, Spiritual Retreat, Meditation, and Relating Retreat, Reiki Yoga Meditation Retreat, and more.
Yoga training is a transformative experience and makes the most out of the month-long program by choosing the best yoga teacher training schools in Nepal.